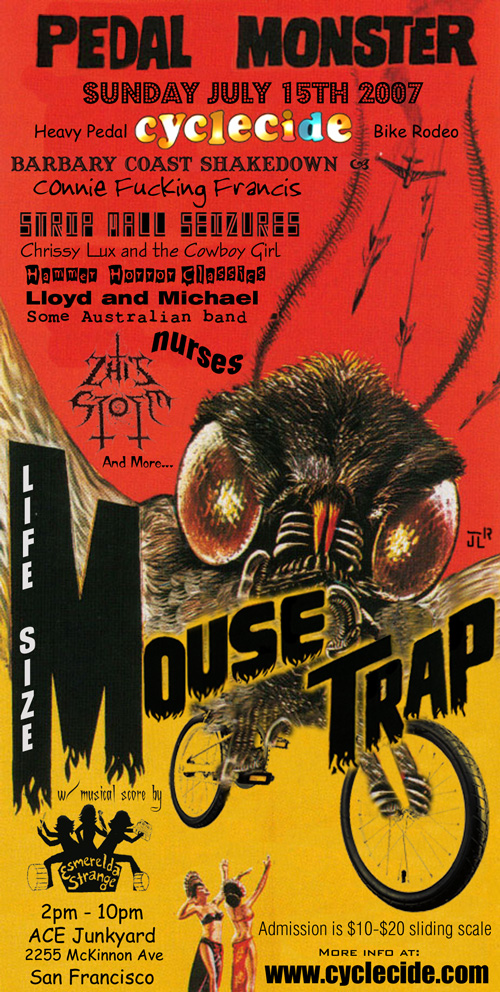 Thanks to all the floks that came out and to our annual summer fundrasing event of bicycle mayhem; it was a real success! and great time!
Friday July 13, test your luck at the Poker Run.  Riders will collect playing cards from locations around SF in an attempt to gain the best poker hand. Gathering time is 6:30 pm at Gestalt Haus 3159 16th St @ Valencia St. Start time is 7:30 pm.  $7 entry fee.  21 and over only.
Saturday July 14, Leisure bike ride will explore the sites and underground culture of San Francisco. Leaves from ACE Junk Yard at 2:00 pm.
Sunday July 15, 2:00 pm, Heavy Pedal Cyclecide Bike Rodeo and pedal powered midway.  Massive bike party with live performances by:
Life Size Mouse Trap w/musical score by Esmerelda Strange
Los Banos
Barbary Coast Shakedown
Connie Fucking Francis
Shit Storm
Strip Mall Seizures
nurses
Chrissy Lux and the Cowboy Girl
Hammer Horror Classics
Lloyd and Micheal
Guy Blackman and Sly Hats
and more…
ACE junkyard 2255 McKinnon Ave 94124  Admission is $10-$20 sliding scale. No one turned away for lack of funds.
This is a Co-production with the Bike Kitchen.
Read the rest of this post for the full press release write up and more info…
CYCLECIDE BIKE RODEO presents PEDAL MONSTER — JULY 13-15, 2007
San Francisco, lock up your fixies — something dumb this way comes …
The Heavy Pedal CYCLECIDE BIKE RODEO announces its third annual PEDAL MONSTER!!
If San Francisco is the World Capital of Weird, then CYCLECIDE BIKE RODEO is the city's most notorious and hard-working ambassador for its two-wheeled, junk-rescuing lifestyle. The world's only bicycle-themed circus/rodeo sideshow and pedal-powered carnival-ride midway, Cyclecide has wowed audiences from Brooklyn to Mexico City with its pedal-oriented, drunk-clown-heavy, mayhem-tastic live act and death-defying carnival rides made primarily out of "pre-cycled" bike  
and auto parts.
PEDAL MONSTER, the annual gathering of the tribes — as well as Cyclecide's main fundraiser and hometown show of the year — will see marauding mutant bicycle clubs from all over the country converge on the Yay Area: Black Label Bike Club from nowhere and everywhere, the Dead Baby Bike Club out of Seattle, C.H.U.N.K. 666 from Portland, San Fernando Valley's Chaingang, and the Skidmarxxx among them.
Friday the 13th, bicycle enthusiasts of all shapes and sizes (and legal drinking age) are invited to converge upon GESTALT — the only bar in town with indoor bicycle parking — to join the PEDAL MONSTER POKER RUN. For a $7 entrance fee, participants will receive a bad-ass CYCLECIDE keepsake and clown-nose signifier. Then they'll drink beer, hopefully, and embark on a madcap two-wheeled bar crawl, in an effort to collect the best poker hand and receive a $50 prize by the end of the night. There will also be drink challenges, Cyclecide theatrics, stupid awards ceremonies, and special surprises along the way.
Saturday July 14th, Cyclecide hosts a leisurely sightseeing and underground-culture bike ride for the hangover-nursing out-of-towners (2:00pm ACE junkyard) … and then the Mousetrap crew and the Bike Rodeo put the finishing touches on their contraptions for Sunday's …
PEDAL MONSTER 2007!!!  Sunday July 15th

Following their standout performances at the '07 Maker Faire, both CYCLECIDE BIKE RODEO and the LIFE-SIZE GAME OF MOUSETRAP will be setting up all their heavy metal just this one other time in the Bay Area before year's end. Cyclecide's got about six or seven full-scale pedal-powered carnival rides on the midway now … but wait! there's more … The Mousetrap!
Based on the Rube Goldbergian children's board game and built to "adult" scale by Mark Perez and a professional crew of idjits (most of whom also wear Cyclecide colors), the Mousetrap will be painstakingly assembled in its full glory in the "drunkyard" for PEDAL MONSTER….  Audiences will marvel as one lucky participant turns the crank to set the whole shebang rolling, sending bowling balls careening in and out of 16 gi-normous interlocking pieces fabricated from found objects, steel, and wood. No telling what the Mousetrap's sexy mice and surly clown-gineers will push under the 30-foot hand-built crane to be SMASHED under the 2-TON BANK SAFE…
So. To sum up. PEDAL MONSTER 2007, July 15, at Ace Auto Drunkyard… Oh Lord, look at all the action below.
Besides the
-CYCLECIDE PEDAL-POWERED CARNIVAL MIDWAY
-MUTANT BIKES of DEATH, DESTRUCTION, and/or RIDICULOUSNESS for all to  ride
-BIKE RODEO SIDESHOW with punk rock mariachi band LOS BANOS and the
-LIFE-SIZE GAME OF MOUSETRAP (at least 2 shows with sexy mice and one-woman band ESMERELDA STRANGE performing her original score)
we also have:
-Barbary Coast Shakedown (exquisite dance straight outta the saloon)
-Shitstorm
-Connie Fucking Francis
-Strip Mall Seizures
-Nurses
-Lloyd and Micheal
-Hammer Horror Classics
-Chrissy Lux and the Cowboy Girl (contortion and BB guns)
-Guy Blackman and Flyhats
… as well as food and bevs for the all-day players …
——————-
So COME ONE, COME ALL … TO THE DUMBEST SHOW ON EARTH. Cyclecide Bike Rodeo and the Life-Size Mousetrap: Two big dumb heavy shows that hurt themselves for your enjoyment and smash things under a 2-ton safe, respectively.
——————-
EVENT INFORMATION:
POKER RUN
Friday, July 13, 2007
Gathering time 6:30; leave at 7:30
$7 entry fee, 21 and up
Gestalt Haus, 3159 16th St. (at Valencia), SF
(415) 560-0137
PEDAL MONSTER
Sunday, July 15, 2007
2pm-10pm, all ages
$10-20 sliding scale; no-one turned away
Ace Auto, 2255 McKinnon Ave., SF
Event info: (415) 385-0411
——————–
Cyclecide:
http://cyclecide.com/
Cyclecide Myspace:
http://myspace.com/cyclecide
Life-Size Mousetrap:
http://www.lifesizemousetrap.com/
Downloadable hi-res photos (more photos available upon request):
http://www.cyclecide.com/beer/press-kit/
Text of the San Francisco Mayoral Proclamation for "Cyclecide Weekend,"  2006:
http://summerburkes.wordpress.com/2007/04/05/cyclecide-mayoral-proclamation/
Ace Auto Directions:
http://www.aceautosf.com/aceautodirections.html
Wikipedia for Cyclecide:
http://en.wikipedia.org/wiki/Cyclecide