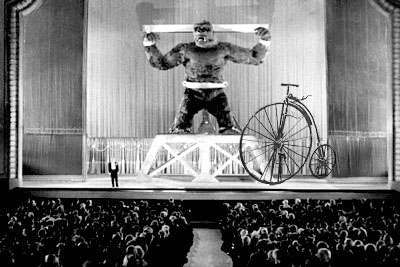 What a great weekend of Events that was….
Poker Run on Friday (7/21) —Starts at Zeitgeist bar—, valencia & duboce. meet around 7:30 leave at 9 p.m. SHARP!  Wherein mutant bicycling fans and feisty cyclists are all invited to throw in $5 to
participate in a multi-bar POKER GAME involving DRINKING and BICYCLING.
 
Pedal Monster Festival on Saturday and Sunday
(7/22 & 7/23) @ the Mission Village Market
(18th & Alabama)
Cyclecide Bike Rodeo w/ Los Banos
Pedal Powered Amusment rides & Circus Midway
Monster Tall Bike Jousting
The Lifesize Moustrap (featuring Esmerelda Strange)
The Disgusting Spectacle
BMX Competition Presented by First Rule
Saturday, July 22nd
Kielbasia (the Accordion Playing Lunch Lady)
The Slow Poisoner
Glen Meadmore
Chris Karney
Cyclecide Bike Rodeo
DJs Toph One, Big Daddy, jef leopard, Ice Cream Lopez
MCs The Reverend David Apocalypse & Sean Kelly
Sunday, July 23nd
Hobo Gobbelins
Cross Tops
Glen Meadmore
Chris Karney
Cyclecide Bike Rodeo
DJs Toph One, Big Daddy, jef leopard, Ice Cream Lopez
MCs The Reverend David Apocalypse & mikl-em

down load high res 8×10 pedal monster poster