Ace in the Hole Fundraiser
Time: Sat Jul 10 from 5:00 pm to 1:00 am
Venue:The Shipyard, 1010 Murray St., Berkeley, CA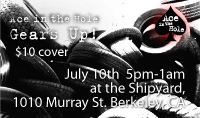 ACE Auto Dismantlers, and with it the glorious ACE International Speedway, has been closed down forever. BUT ONLY IN PHYSICAL FORM! The frantic energy and magical chemistry that powered the spirit of the Junkyard LIVES ON!
A documentary is in the works about ACE and Bill, and this fundraiser will support the production of "Ace In The Hole" – aceintheholefilm.com
Join us to celebrate this landmark, and Bill The Junkman himself. Bill empowered countless artists by sourcing them "junk" from his collection, and he provided a place for an unreal number of events, including The Power Tool Drag Races.
The event features an exhibition Power Tool Drag Race!! Plus, performances from Los Banos, Translator, Tiger Honey Pot, Big Daddy DJ'ing, Neverwas Haul, Calliope, Monkey Canon… and MUCH more!!
Trailer screens at 9:00 pm sharp!